How does it work?
You will need a PetGP Plan before you can connect to our Veterinary Team. Sign up to the plan that suits you, our process is simple
Choose a plan
Sign up and select a plan that best suits you and your pet
Submit your details
Complete your profile with details for you and your pet(s)
Select consult type
Select consult type and contact our expert Veterinary Team
Connect to Vet Nurse
Speak with a Vet Nurse for a tailored veterinary advice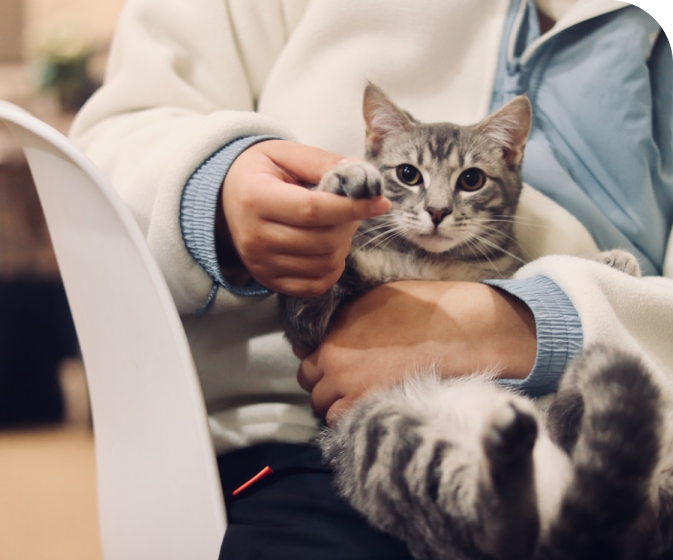 PetGP is here to support you
Our Vets and Vet Nurses can advise what to do at any time of day or night. Take the pressure off your Vet Practice, call us first.
Register Today
Should I call PetGP or go straight to the Vet?
PetGP is here to help when you think your pet is unwell, and you just want an independent, expert advice about what to do.
After all, in 2 out of 3 cases, we have found that an immediate trip to the Vet isn't necessary. So it makes sense to call us first – which may help you avoid the inconvenience, stress and cost of an avoidable trip.
Of course, there are other times when it's vital to get your pet to a vet as soon as possible. If you're unsure, call our Expert Vets and Vet Nurses, we may be able to help you spot a life-threatening problem early on.
If you've already seen a qualified Vet about a particular issue, we're only able to give you a second opinion. (Please note that we'll assume you're agreeing to this if you call us under these circumstances.)
Is it an emergency?
You should go straight to the Vet if the answer to any of these questions is "Yes"
Does your pet have something stuck in their throat or swallowed a foreign object?

Does your pet have any severe cuts, burns or uncontrolled bleeding?

Is your pet in serious pain, such as wincing, whining, or crying?

For pet health advice, contact our Veterinary Team
Non emergency
Think your pet sick? Get advice from our Veterinary Team. Sign up for helpful information
Get tailored consultation, expert advice - and much more

Find latest news on pet healthcare

Get 24/7 access to our Veterinary Team

Get Tips and advice recommendations