How does it work?
You will need a PetGP Plan before you can connect to our Veterinary Team. Sign up to the plan that suits you, our process is simple
Choose a plan
Sign up and select a plan that best suits you and your pet
Connect with us
Telehealth veterinary team appointments available via telephone, video and live chat.
Virtual vet visit
Our team of Vets and Vet Nurses give tailored, evidence-based support and advice.
Clear advice
Our team will give clear outcomes and advice to help you improve your pets health as quickly and safely as possible.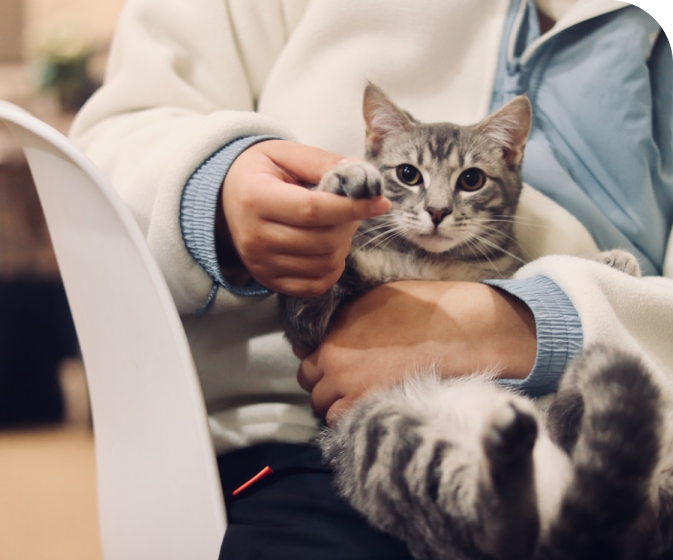 PetGP is here to support you
Our Vets and Vet Nurses can advise what to do at any time of day or night. Take the pressure off your Vet Practice, call us first.
Register Today
Should I call PetGP or go straight to the Vet?
PetGP is here to help when your pet is unwell, or you would like to discuss a concern. We provide independent, evidence-based, expert clinical advice to allow you to give your pet the best possible care.
In 2 out of 3 cases, we find that an immediate visit to the Vet is not necessary. By calling us first you can avoid the inconvenience, stress, and cost of avoidable vet appointments. PetGP is not there to replace your vet. There will be times where a Vet visit is necessary. If we feel this is required we will give you clear guidance to keep your pet as safe as possible.
No question is too big or too small. Our team are happy to discuss all aspects of animal health and wellbeing. We are unable to offer second opinions about problems you have already discussed with your veterinary team. We are also unable to offer online veterinary prescriptions (Not legal within the UK at this time). We will however, provide advice and guidance to allow the best clinical outcome for your pet.
Is it an emergency?
If you answer yes to any of the following please contact your vet as soon as possible.
Do you feel your pet is in immediate danger?

Is your pet not breathing or showing signs of respiratory distress?

Is your pet experiencing uncontrolled bleeding?

Is your pet currently unconscious or collapsed?

Do you wish to discuss your pet's prescribed medication, insurance policy, or seek a second opinion on a pre-existing health condition?
Vet advice online
Do you have a question about your pet or are you worried they are ill? Become a member to access help and advice from our expert veterinary team.
Get tailored consultation, expert advice - and much more

Speak to an experienced, UK registered Vet Nurse or Vet online.

Get 24/7/365 access to discuss all aspects of pet health.

Get Tips and advice recommendations from our members only information area.